Page 8 of 8 •

1, 2, 3, 4, 5, 6, 7, 8




Posts

: 141


Join date

: 2016-06-08



Suspense_1956-12-23_BackForChristmas_wHerbertMarshall (AFRTS Christmas Library C-57).mp3
[You must be registered and logged in to see this link.]
Newspaper clippings note this as the fourth performance of this script. An
Escape
broadcast is in the count.
43-12-23
Suspense
, Peter Lorre
47-12-24
Escape
, Paul Frees
48-12-23
Suspense
, with the title "Holiday Story," Herbert Marshall
56-12-23
Suspense
, Herbert Marshall
1956-12-22 Davenport IA Daily Times
The plot description is botched:
he knows perfectly well where the missus is.

1956-12-23 Eugene OR Guard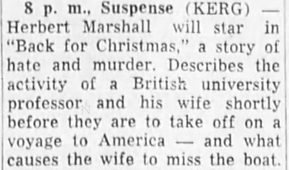 Thanks greybelt

Have a great weekend

Best regards

Art
Many of you follow the OTRR Facebook page and may remember that there were a bunch of reels offered that originated from the collection of a deceased OTR collector on the west coast. Many of these reels were donated to OTRR and I have been transferring the reel recordings where at least one show on the reel was
Suspense
. Most of the recordings from forty years ago are not as good as what we have today, but there have been some surprises in different versions; a handful of recordings have been superb and are upgrades. That is mainly what this next batch of programs are.
I'm posting two today that are different versions -- they are not upgrades of what we have. One of the shows had an erased spot where I pasted in the missing segment. The sound difference is noticeable but it is brief, and I have noted the patch in the file name. These are probably missing East or West coast versions but we really have no idea which is which as I could not detect any clues from listening to the recordings.
Suspense_1944-10-05_Dateline_Lisbon_wJohnHodiak DELAYED NETWORK ID AT END.mp3

[You must be registered and logged in to see this link.]
Suspense_1945-06-21_StoryOfIvy PATCH FROM 5s TO 20s - RUSHED NETWORK ID CLOSE – LQ.mp3

[You must be registered and logged in to see this link.]
All of the better items in the reels will be released by OTRR at some point soon. These reels are a window into what OTR collecting was like in the 1970s. This was a very good and pretty well connected collector, but finding tape hiss and hum and other problems would be marked as "LQ" today, but at that time many of these programs were considered of VG or E quality.
We don't have many more
Suspense
posts left to do. At some point next week there will be a brief break in the posts and then I'll finally get to
Whistler
and
Johnny Dollar
. Still have some organizing to do of those.
As for
Suspense
, the recordings over these many months were from access to numerous collections close to the disc sources or from collectors whose collections were highly respected many years ago. I knew of many of them, some deceased, but whose recordings were shared with enough people that they survived through to this digital era. This is a much, much better time to be collecting OTR from a sound and technology perspective.
Thanks again greybelt

Best regards

Art
Thanks Greybelt. Let me know if you need some help cleaning up the tapes.



Posts

: 141


Join date

: 2016-06-08



A quick note re:
The Story of Ivy
, a version of which was posted yesterday. The May 3, 1945
Suspense
episode is
Fear Paints a Picture
, but I found newspaper clippings with Turner cast for
Story of Ivy
for that very date, as well as
Fear
. There was obviously a change in plans.
Ivy
was done on June 21, 1945 with Ann Richards. Either
Story of Ivy
was not a good fit for Turner or it wasn't ready.
Today's post stars Joe Kearns, first known to me as the next door neighbor Mr. Wilson on
Dennis the Menace
. Only by immersing myself into
Suspense
as I have done (and so happy so many have been along for the ride) have I realized how critical he was, week-to-week, in the Spier era of the program, announcing, as a supporting player, doubling or tripling supporting characters, and starring in it. His last
Suspense
appearance was in 1957.
[You must be registered and logged in to see this link.]
Suspense_1945-08-16_Short_Order_wJosephKearns UPGRADE-3.mp3
[You must be registered and logged in to see this link.]
Thanks greybelt

Best regards

Art
Page 8 of 8 •

1, 2, 3, 4, 5, 6, 7, 8


Similar topics
---
Permissions in this forum:
You
cannot
reply to topics in this forum