When you first start listening to old time radio you find like TV and movies you form preferences for certain actors and actresses. One of my early favorites was Tom Collins. I happened upon some Chandu episodes and I was hooked. Looking for Chandu prompted me to join some online sites and one site had most of the episodes I paid to download them and soon I was listening to Chandu episodes every week. I don't listen to them continuously I ration them to one a week so I can enjoy the show the way the fans in the late 40's did. I liked Collins so much I searched out more shows, soon I had every episode of Frank Race and episodes of One Man's Family. Then came the search for obscure roles in X-minus 1 and other OTR shows. So in celebration of the opening of the new and improved Cobalt Club I give you the life story of Tom Collins.
Becoming the Actor!
Tom Collins was born Beryl Williams Collins on June 7, 1913 in Chicago, Illinois. After graduating from Austin High School in 1930, he enrolled at the University of Illinois. He stayed for only one year, leaving to join the Goodman Theater in Chicago where he learned his craft along with other young Chicagoans such as Karl Malden. The acting bug had bitten and Tom was on his way to becoming a performer. He was signed to a contract with MGM around 1938 and made the following films:
1. Dr. Kildare's Crisis (1940) (uncredited) .... Doctor
2. Dancing on a Dime (1940) .... Sammy Brooke
3. Dr. Kildare Goes Home (1940) .... Dr. Joiner
4. Dr. Kildare's Strange Case (1940) .... Dr. Joiner
5. I Take This Woman (1940) (uncredited) .... Intern Harry
6. The Secret of Dr. Kildare (1939) (uncredited) .... Dr. Joiner
7. These Glamour Girls (1939) .... Tommy Torgler
8. 6000 Enemies (1939) (uncredited) .... Reporter
... aka Six Thousand Enemies
9. Tell No Tales (1939) .... Phil Arno
10. Within the Law (1939) (uncredited) .... Bert
11. Somewhat Secret (1939) .... Benjamin 'Barrelhouse Benny' Barnes
12. Money to Loan (1939)
13. Fast and Loose (1939) .... Gerald Torrent
14. Burn 'Em Up O'Connor (1939) .... 'Lefty' Simmons
15. Irish Hearts (1934) .... Dr. Joyce
... aka Norah O'Neale (USA)
The Move To Radio
Beryl Collins now became Tom Collins. During the 1940's Tom moved into radio which at the time was the place to be. Tom landed his first big role as Nick Lacey on "One Man's Family" a show witten and produced by Carlton E. Morse his educated English accent was always spot on and Tom had such a distinctive voice you can pick it out of any cast. This role lead to the recurring role as announcer for the "Calvalcade of America" guest appearances followed on shows such as the Whistler and many others. Then came the role of Frank Chandler on Chandu. Tom took the lead role of Chandu the magician and for a lot of us is his most recognized part. Tom played the part with strength and versatility. The show which was aimed at kids played extremly well with very good writing and a great supporting cast. Tom was very believable as the mystic Chandu who could command the secret oriental art of magic to fight the evil Roxor. In each episode we heard Tom pull us into the world of magic and high adventure. To this very day those performances stand the test of time. Tom Collins brought the characters alive with brilliant acting.
Before Chandu Tom took the part of Reggie York in the half hour Morse production "I Love Adventure" which continued the stories of "I Love A Mystery" after ILA and Chandu he took the lead role in the new adult crime drama "The Adventures of Frank Race" Tom got to stretch his talents a little in this role. Tom provided a first person narration of the action at times which filled in the scenes so vividly. He had pitch perfect characters. Race was a lawyer who joined up with the OSS during the war and had seen the dirty side of life and was used to betrayal.
Each week Race help investigate a crime usually for an insurance firm Intercontinental Underwriters he freelanced for. With the help of his cabby friend Mark Donovan, Race got into trouble every episode. The beauty of this series was the narration by Collins which privided much of the atomsphere. Its classic Collins. For a comparison check out Frank Race "The Sobbing Bodyguard" when Paul Dubon takes over it just isn't the same and is a nice indicator of how good an actor Collins was.
The Family Man
During the time that Tom was becoming a successful actor he was also becoming a husband and father. Tom married Mardy Hubbell in 1937 I have a picture of their wedding day that Tom's daughter Monica sent me and they look so wonderful together. Young, in love and a life ahead of them. In 1940 Monica was born and Tom was the proud father. In 1943 Megan was born and in 1947 Mal was born. In the April 29 and 30 1946's issues of Hollywood Citizen-News Tom was featured due to his winning the role of Nicky Lacey in One Man's Family. Tom was quick to mention his two daughters and Monica's phenomenal memory. He told of only allowing the girls to listen to "Lets Pretend" and "Whoa Bill Club". Also on the list was Harold Peary's fairy tale albums. Both Monica and Mal remember their Dad's love of books and his reading to them when they were small. This love of reading was quickly passed on to the children.
The Lean Years
From the time Tom Collins started in radio and throughout the 40's in Hollywood he was a popular and sought after actor. Some days he had four jobs and was lead and guest in many shows. Why then would a successful actor who in 1949 was starring in Frank Race and had just completed his 23 episode pickup and move to New York. This story had never been fully explained and thanks for Tom's children I have been able to put together a likely scenario for what may have happened. Two things happened that made him decide to move. In the late 40's New York city was the center of the new movement to TV. Unlike today where Hollywood has a lot of TV it was New York City where the buzz was. Carlton E. Morse was given the go ahead to create a TV version of the radio show "One Man's Family" Tom loved the role of Nick and liked working with Morse. He went to New York on a six-week contract to provide screen tests and work on the show. Its up for supposition what caused the project to fail. Some say Morse could not write for TV others say the rest of the cast did not want to move to New York. This and the fact ABC had picked up Chandu and would be recording it in NYC. Tom must have thought it would be as successful as the previous show and with the OMF TV deal he would be safe in relocating the whole family to Rye New York. After the OMF TV show fell through Tom tried to get work in NYC. He did land roles, but not the type or consistency he had in Hollywood. Chandu in the 30 minute format did not work and Chandu seems more like a gumshoe than a mystic and of course that darn TV was grabbing viewers. Advertisers were putting their money into TV and the money for radio dried up. Through to 1957 he still worked on radio getting roles at ABC as Barkley Bailey in "The Romance of Helen Trent" and in commercials and guest spots never really finding the traction he found in Hollywood. I think NYC radio like any other medium had its circle of stars and Tom never fully broke into this circle. During these years in the 50's radio was being replaced by TV so Tom's prospects of getting radio jobs were greatly reduced. To make ends meet he had to take a series of jobs that were less than appealing. He worked as a ticket agent for NY Central Railroad until 1962 when he damaged his back loading a heavy mail bag. After a year and a half of healing he worked at a florists, sold Aeolean Pianos, sold books for Double Day, worked as a Good Humor Ice Cream Guy and finally as a security guard in Iona College in New Rochelle, NY. On June 17th 1973 at the young age of 60 years old he passed away.
Epilogue
I like to remember Tom Collins for the joy he brought to all of his many fans who thrilled along to Chandu and wondered what was next for Frank Race. As one woman wrote to Radio Life magazine "why don't we hear more of Tom Collins the man with the most intriguing voice in radio? Yes indeed why don't we. Thanks to the efforts here at the Cobalt Club you can listen to him and thats the way it should be. Tom Collins was one of the greats he was also a husband and a Father. A man who tooks his bumps and still took unforgiving jobs to feed his family. So often we listen to the shows and do not remember the real people behind the voice. Thanks to Monica and Mal I got to meet the real Tom Collins and he was just as large in life as the characters he played on radio.
Radio Roles and Shows -- By No Means Complete
Kitty Keen
Raffles -- Lead as Raffles
Good News Of 1939
This Is My Story
The Cavalcade Of America 1940's-- Announcer
Lux Radio Theater
Irene Rich Dramas -- Niles Novak
Stars Over Hollywood
-December 30 1944 Bedtime Story -- Played: Luke
-January 15th 1945 Seriously I love You -- Played: Jerry
-February 10 1945 Go West Young Lady -- Played: Count Pauli and Steve
Theatre Of Famous Radio Players
The New Philip Morris Show 1/9/45 -- Played: Lt. John Christ
Press Club
Dr. Christian
Gallant Heart
Dreamboat -- read poetry
The Bullock's Show (Star Performance)
One Man's Family -- Played: Nick Lacey
The Whistler
The big Broadcast
Aunt Mary
Dark Venture
Favorite Story
The Upper Room
Ellery Queen
In Your Name
I Love Adventure -- Played: Reggie York
Chandu the Magician 166 episodes -- Played: Chandu
The Adventures Of Frank Race -- Played: Frank Race 23 episodes
Girl Next Door
The Greatest Of These
The Romance Of Helen Trent -- Barkley Bailey
The Cavalcade Of America 1950's guest
X Minus One -- The Map Makers - Played: Crewman
Families Need Parents
Gallery of Tom Collins (Never before seen photos)Tom Sitting in Hollywood in 42 looking quite beatnik, ahead of his time!
Tom and Mardy 1937
From Magazine Article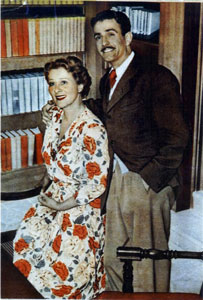 Foot Notes
None of this would have been possible without the participation of the children of Tom Collins, Monica and Mal. Monica and Mal called together family members and went over old stories and letters to send me information and pictures which have been invaluable in telling this story. I do not consider this story told. I have more to add and I will edit this to make it better. I wanted to have Tom on hand front and center when we relaunched the Cobalt Club so our members and the web as a community could see what we are trying to do with the new club. My many thanks to Monica and Mal for making this possible. Finally, a tip of the turban to you Tom Collins for keeping me company on so many nights and providing me with the picture that everyone at the club knows me by.

Seamus

Admin




Posts

: 700


Join date

: 2013-05-06


Location

: Big Trouble in Little China



---
Permissions in this forum:
You
cannot
reply to topics in this forum