Page 28 of 28 •

1 ... 15 ... 26, 27, 28

Sounds like a great trip, greybelt! Thanks in advance for sharing what you learned while there with us, I look forward to listening and reading about that.



Posts

: 21


Join date

: 2018-08-31



Getting close to the finish line -- the 2020 edition of Suspense Collectors Companion is so so close. It should be on Amazon by July 4 if all goes well!

Fixed lots of things, corrected some items since I have new information, and added a lot of stuff. Some of that was developed in my posts here and they are now cleaned up and polished and ready for "prime time." There are more details about the missing episodes, and some new sections.

I'm still resisting including a show list for the time being, but the 2021 edition will likely have that, documenting all of the versions that have been found.

Just received a new bunch of reels to review. After YTJD is done we'll be cranking up the Suspense engine again after a break to allow for the Radio Spirits cruise. So there will be no posts from July 19 to 27. Hard to believe it's less than a month away!
The 2020 edition of Suspense Collector's Companion is now available at Amazon!
I set the price at $9.95 mainly for Cobaltians, especially for those folks who bought the first one -- the price will be changed very soon to $15 -- I won't be promoting it for about 10 days
[You must be registered and logged in to see this link.]
I'm not sure if I will have a Kindle version yet, probably will, but not now.
The book has about a third more pages than the first one did and probably about 40% more content as I tightened up the layout to squeeze more stuff in. I fixed a bunch of things that since have been corrected or have more and better info.
There are new sections about the Robson era, especially the Robson-read openings to the six programs that are just drama-only recordings that are still in circulation. Got those openings right from the scripts when I was at Thousand Oaks hard to believe two weeks ago already -- what a marvelous trip -- still in the afterglow of it!
The missing episodes have more info about them, expanded the 60 min episode section, more curiosities added, the list of final and working titles is expanded, added more Sorry Wrong Number stuff
And one of the fruits of the Thousand Oaks trip was that I read the opening pages of the script for the 60-min episode "The Search" and I summarized them -- we don't have the first 12 or so minutes of that show -- and it certainly makes listening to it a lot better
Got the details of the canceled John Garfield appearance because of the
Red Channels
-related stuff in there, including a picture of the script cover.
I got the exact details of the east-west broadcasts all settled as to when they were and when they weren't!
Why do I write this stuff for a book? Because there's too much for me to remember and not doing it makes my desk a mess!

Appreciate all of your support and help with this -- thanks so very very much!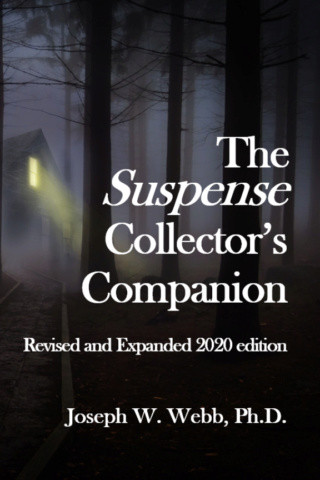 Just bought my copy! What a steal. Many thanks, my friend.
Jeff
_________________
GHEMRATS
"WRONG! You had Special K with bananas!"




Posts

: 237


Join date

: 2013-04-19


Age

: 66


Location

: Bob Ufer's Meeechigan!



Its fantastic many hours will be spent perusing this tome.
Admin




Posts

: 187


Join date

: 2013-05-06


Location

: Big Trouble in Little China



Received mine in yesterdays mail, thank you.

I have the first edition as well. Can't wait for that one to become a major collectors item, then Ebay here I come. Thanks again, Tom.



Posts

: 76


Join date

: 2016-06-03



The
Suspense
updates will resume on July 27. There are now more than 50 updates and different versions ahead, with more being accumulated.
FYI the book's price will be bumped up to $15ish after this weekend. Links are on the research page in my regular posting signature.
Just in the past few weeks, I have received access to many new-to-me research materials that have not been available for decades. There will be many behind-the-scenes curiosities and insights into the series that are not in the book. It will be worth staying tuned to this area of Cobalt!
* * * * * * * * * * * * * * * * * * * * * * * * * * * * * *
Suspense
had separate East and West broadcasts only during its sponsorship by Roma Wines. The early Roma Wines broadcasts were on Thursday for the East and Monday for the West. Those are documented in a separate spreadsheet. But this is a new one that covers the same-day dual broadcasts
[You must be registered and logged in to see this link.]
Click the link to see the identified recordings that are East and West in the current collection, and which have been specifically noted as East or West.
Beginning in mid-September 1944, there were two broadcasts on a single day. In some cases, recordings are labeled as to their East or West origin because that information was retained from the transcription disc labels or other documentation as recordings were traded from collector to collector. In other cases, the mention of the upcoming broadcast of
The FBI in Peace and War
identifies the East version. There are also programs with differences in their closing announcements or the pace of their reading. Most single recordings, however, have no identifiers. There are many cases where we have identified two different broadcasts but do not have any means of identifying which recording is associated with which coast.
Suspense
received many scripts from new authors and some of them went on to be good productions. The most famous one was probably
On a Country Road
by a journalism student, Walter Bazar. He went on to have a good newspaper career, mainly with the
New York Journal-American
. He never had another script produced.
Just bumped into another one,
Spoils for Victor
. The 1946 production was a lost program until about 10 years ago, but it is an AFRS recording where the credits were edited out. The 1959 version is complete. The script has been credited in the past to Robert Richards. Richards was a blacklisted writer, so it was assumed that "Joseph Hudock," announced at the end of the 1959 program, was a pseudonym for him.
We recently received copies of script pages for 1946 and 1959. There, in the 1946 version, it has Richards name, but also "J. Edward Hudock." Why would that be? This was
four years
before the publication of
Red Channels
and the beginning of the blacklist.
Searches indicated that the script was used in 1949 on
Philip Morris Playhouse
as well, and that script identifies Hudock as the author (Spier was producing
PMP
at that time, and used a few
Suspense
scripts in his tenure with that series).
Finally, some light was shed in a blogpost at the
LA Times
that mentioned back in 1959 they helped CBS find Hudock so they could send him a check for that year's performance of the script: he was a chemistry teacher at St. Monica Boys School (a high school) in Santa Monica!
Richards role would have been cleaning up Hudock's work (it is unclear if he submitted a plotline, short story, or a script) to be broadcast ready. But imagine this -- to have your only radio script used by production legends William Spier TWICE and Bill Robson ONCE!
I'm still searching for more information about this -- yet again,
Suspense
surprises us with some interesting history. Sometimes this history is more fascinating than the programs!
Page 28 of 28 •

1 ... 15 ... 26, 27, 28

---
Permissions in this forum:
You
cannot
reply to topics in this forum